Introduction to HTX Flexible Products
Must-Read for Beginners

User Guides
What is HTX Flexible Products?
HTX Flexible Products is a financial product similar to a cryptocurrency deposit account for users. It supports functions such as deposit and withdrawal at any time, daily interest calculation, and real-time arrival. More than 25 tokens are available for subscription on HTX Flexible Products.
How to subscribe to Flexible Products? (Web)
1. Log in to your HTX account, click Earn > HTX Earn
2. Click Flexible Products to select your favorite token and click Subscribe to get started.
How the interest is calculated and distributed?
Daily interest = Assets deposited * APY / 365
Please note that Flexible Products products' APY changes every day. The estimated interest displayed at the time of subscription may differ from the actual interest generated.
After subscription, your returns will begin to accrue from 00:00 (UTC) the next day. The first interest generated will be credited to your spot account the next day after the first interest day. You will not receive interest on the day of the subscription.
Interest will be calculated and credited to your HTX account between 00:00 and 08:00 (UTC) every day. However, due to network delays, system settlements, and other unforeseeable issues, interest distribution may be delayed.
Flexible Products Maximum Subscription Limit
Each Flexible Products product has a maximum subscription limit. Once the limit is reached, the system will no longer accept any subscriptions.
● The limits are set to assure fair subscriptions for everyone.
● Each product has a subscription limit to ensure the sustainable development of HTX Earn.
● HTX may change the subscription limits for Flexible Products products at its sole discretion.
Here's how you can subscribe to Flexible Products products on the HTX app: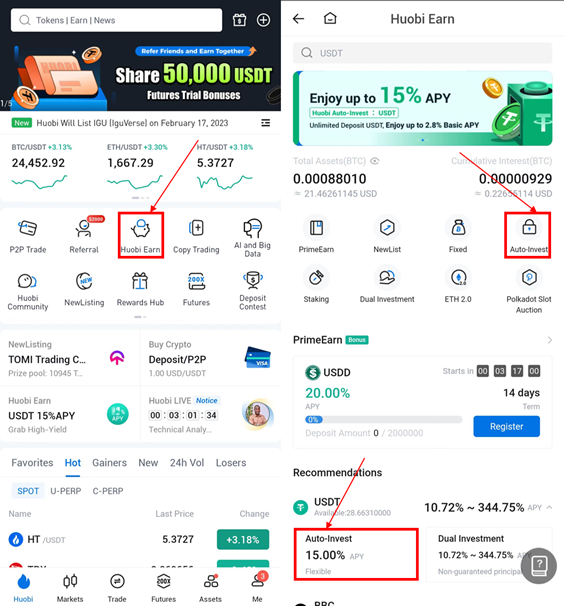 Redeem process